Focus less on your stay
Find Yourself in the Game
Exclusive Accommodations Provider for the USTA National Campus
Take the guesswork out of booking your Orlando/Lake Nona hotel stay with USTA Travel. Whether you're staying for an event or are visiting the USTA National Campus, we offer a variety of hotels just right for your needs, all with amenities that make your stay comfortable and enjoyable.
Why book with us
Low Rates
Best Locations
Concierge Service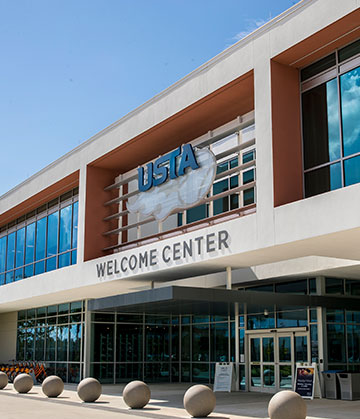 USTA Travel has a variety of hotels in and around Lake Nona conveniently located near the USTA National Campus as well as Orlando International Airport—all with a host of amenities to make your stay the best it can be.
Upcoming Events
Served Year-Round

View Map
Definitely Recommend
Residence Inn by Marriott Orlando Lake Nona
"
This is a newer hotel in an up and coming area of Lake Nona. Great for the airport and the USTA Tennis complex or the hospitals (Medical City) in the area. Even close to airport (10 minutes) the rooms are very quiet and they had a shuttle. The staff was excellent and a nice breakfast in the morning.
—naplesbuff
Great Location!
Courtyard by Marriott Lake Nona
"
This is only about three miles from the USTA National Campus. The hotel is new, very clean and the beds are very comfortable. The staff was super friendly, and the restaurants next door had good food.
—Luke B